Franklin Island Calendar
By Jay Burford 
A neighbour of ours in Toronto, Ralph Grose, has been preparing an annual desk calendar containing award-winning photographs (see his note below). He and a group of friends enjoy going on field trips to new places for their photography. Recently this group went on a five-day photo workshop field trip to our much-loved Franklin Island.
From this trip Ralph has taken a selection of excellent pictures of Franklin Island and created a 2022 desk calendar.  The individual calendar pages, each with a picture of a spot on the island, sit in the self-standing CD case for the display of each month.
I thought some of our members would possibly be interested in purchasing this item. It would make a terrific Christmas present or hostess gift for anyone who loves our beautiful part of the world.
To order calendars and arrange for pick up or mailing, please contact Ralph at: rcgrose@sympatico.ca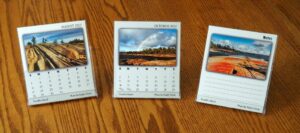 Hi Everyone
Time is passing quickly as we approach the new year of 2022. The subject for the 2022 calendar is FRANKLIN ISLAND GEORGIAN BAY. This island, north of Parry Sound, has classic Georgian Bay scenery.
For the last three years, I have produced calendars for the Toronto Camera
Club, with images from a competition for the calendar. This must mean that the photos are popular with people! I have added an extra page to the calendar this year for memos.
The price remains the same at $20 each. Most customers enjoy the personal use of the calendars on their desk. I am trying to promote recycling of the cases. If you do not require a case, let me know and I will supply the calendar without the case.
I look forward to hearing from you soon so I can reserve your calendars.
This year has been unusual and I hope everyone has now been vaccinated.
Hopefully, we will not have a problem with another wave.
Kind Regards
Ralph