Franklin Island – The Grand Camp of Carling
By Carol LeBlanc
It all started as a boys' camp with a group of small tents and a larger one for meeting and dining.  From these humble beginnings by Reverend William J Christie, with the help of his brother Peter and board members Franklin became one of the most desirable family and youth camps in Ontario.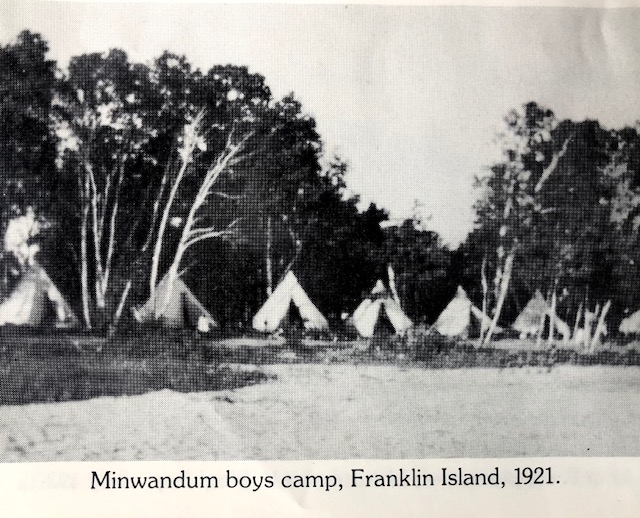 With its natural beauty and adjacent Provincial Park, the island was the perfect setting for rest and outdoor activities.  Both were plentiful in your choice of sailing lessons, paddling, swimming, and life-saving instruction.  Canoe trips, fishing, nature studies and photographic hikes afforded the campers the beauty of their surroundings.  There were sports such as tennis, golf, volleyball, badminton and baseball for all to compete in.  For entertainment, there was dancing, sing songs and stunts performed by the campers and their instructors.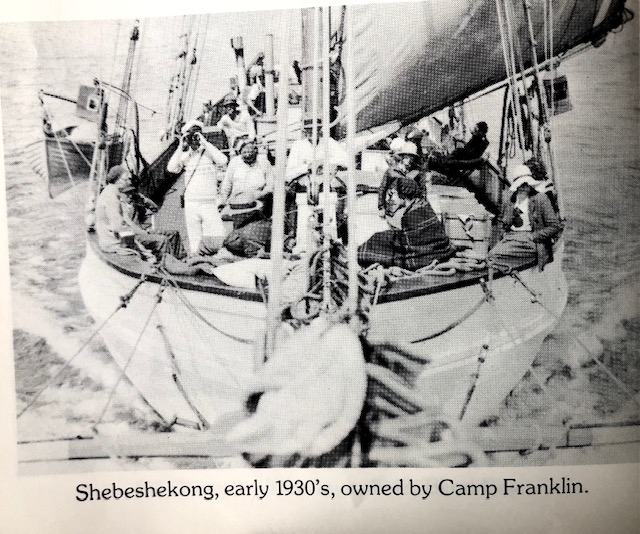 The staff encouraged the development of what became lifelong friendships.  They instilled a love and respect for the natural beauty that surrounded each visitor.
The 50 foot Camp Franklin sailing yacht, Minwandum, offered the campers the choice of a two, three or four-day cruise to acquaint themselves with the 150 miles of our island-strewn region.
One of the most popular trips was to Killarney where campers had the opportunity to photograph or paint the scenic views from this truly beautiful park.
Campers could choose from the five types of accommodations:  Type A… American army pyramid style 16 x 16-foot tents on elevated floors for a maximum of five people and a few 10 x 12 ridge tents for one or two people.  Type B … tent bungalows 16 x 16 feet, with wooden floors and four-foot walls with an American army pyramid tent mounted thereon.  Type C…Bungalows, wooden construction throughout, floors walls and roof.  One spacious room with six large windows that were all wire-screened.  Type D…Cabins constructed of dressed lumber with two, three, or four single or double rooms. TypeE … lodges varying from four to ten rooms.  These delightfully situated buildings afforded splendid accommodation.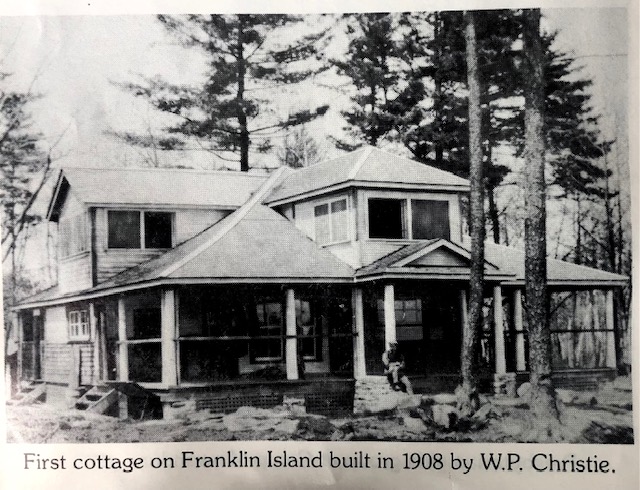 Cots and beds were provided in all types of accommodations. Some of the cabins and lodges had covered verandas and could be rented with or without bedding.
As time went on there were a dining and recreational hall, stables and various types of courts for games, trails, laundry, vegetable gardens, a boathouse and a large wharf added. The camp had its' own post office, tuck shop and medical attendant.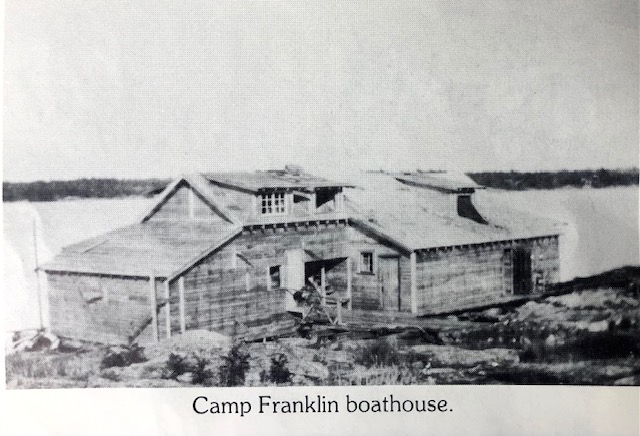 The camp was open from June 1st to October 1st.  Camp Franklin was run under the Minwandum Camping Association Limited.  It was open from 1922 to 1937.
During its years of operation, the camp was a major employer providing passengers to both railways and boat lines in the area.  Many Carling residents worked on the island as cooks, dishwashers, instructors, guides, cleaning staff etc.  They all have wonderful memories of their time there.  During Carling Township's Centennial, the West Carling Association held a very fun and successful picnic on Franklin.  It was here that the Milligan Sisters gave me a colourful description of their work and memories as girls.  One story shared was that William Konoval began his courtship of Vivian Milligan during one of those glorious summers.
After its closing, others tried different ventures but Franklin Island camp was never to see its heydays again.  The camp ran when times were simpler and adventure was easily seen in the eyes of those that were lucky enough to go there.
Don Christie and his wife Elinor related how many people would come to reminisce with them about their time at Franklin or that of a dear one that attended the Camp.  Therefore it was a delightful surprise for this writer to find my great aunts Frances and Grizilda Bovaird of Brampton listed as members in the 1932 Camp booklet.
Any of us who have visited this magnificent island can close our eyes and envision what Rev. Christie started.  Although it is all gone, you can still find remnants of its past throughout the island.  Today families can still enjoy this wonderful treasure which still gives its visitors the opportunities to camp, boat, fish, swim, canoe and kayak, hike and picnic.  The artist in anyone can capture its beauty in both photos and paintings.   Carling is proud of this island's past and the future preservation of her beauty.