New Nature Reserve on Rose Island
One hundred and fifteen hectares of old-growth forest and wetlands have been protected on Georgian Bay's Rose Island in Carling Township.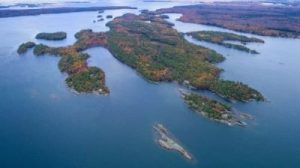 The preserve will be a place to connect with nature through an existing trail system that will be open to the public and school groups.
The lands are now a permanent nature reserve held by the Georgian Bay Land Trust. The Rose Island Nature Reserve protects 115 undeveloped hectares (286 acres) of the 162-hectare (400-acre) Rose Island. The Reserve contains 28 hectares (70 acres) of wetlands, including two large interior swamps and two coastal marshes.
Rose Island, located in Carling Township, contains some of the last remaining old-growth forest in Southern Ontario. It is one of the few islands on eastern Georgian Bay with sandy soils – a remnant of ancient glacial deposits. These soils are the reason for the island's unusually diverse deciduous forest, which is a rare habitat type on the eastern Georgian Bay coast.
Rose Island is home to at least ten species at risk, including the Monarch (Special Concern), Eastern Foxsnake (Endangered), and Blanding's Turtle (Threatened), listed under Canada's Species At Risk Act. The Island is a critical link in a coastal migration corridor which allows wildlife to pass between the lands of Wasauksing First Nation to the south, Killbear Provincial Park to the north, and beyond.
Congratulations to the Georgian Bay Land Trust and its partners for this outstanding achievement. For further information see
www.gblt.org