Chamrock: The Chambers cottage on Snug Harbour
By Bruce Chambers
We decided to name our cottage "Chamrock" when we bought it from Margaret Mason in 1981. Margaret had purchased the property from Adam Brown. Adam of course deserves more than a mere mention, but suffice it to say that he lived to106! He died in 1968 and his history is documented elsewhere – the Museum in Parry Sound has a good exhibit on Red Rock and Adam Brown. Don Christie plays a significant role in our cottage's history as he does in so many other cottages in our area and we learned a lot of our history facts from Don. We also learned a lot from our neighbour Glen Parr.
Our "cottage" has three parts each with its own history and its own story. The garage which we use to store fireplace wood and canoes, a small sleeping cabin that we call "Adam's", and the main cottage.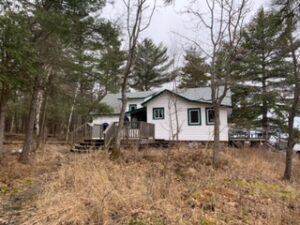 The garage was originally a boathouse in the harbour in front of the cottage and the stone footings are very visible, particularly when the lake water levels are low. The story we heard was that one spring the boathouse was "floating in the harbour". In any case, it was moved up onto the shore to its present location and became the garage.
We had the opportunity to learn the history of the sleeping cabin on a visit with Adam's daughter, Jessica Phillips, when we invited her to our cottage in1983. Jessie told us that she first went with her family to Red Rock when she was three months old! Adam was tending the Light at Red Rock at that time. Adam's family lived on the adjacent "Minks" where a small cabin had been built for Adam's sister who had TB. Jessie told us that Adam had moved this small Sleeping Cabin to its present location beside our main cottage after he had retired as "Light Keeper".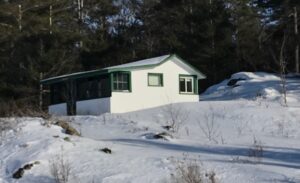 Jessie vividly recalled that Adam had skidded the cottage drawn by a horse across the ice from its location on the Minks to its present spot. At some point, it was enlarged by Don Christie to its present size of 320 square feet. We also had a short visit in the early eighties with Adam's other daughter Edith Perks who was living in Parry Sound.
Margaret Mason bought the property in 1953, but she made an agreement with Adam Brown enabling him to use the Sleeping Cabin as long as he wished. To this day, we call it "Adam's ".
Margaret made several improvements to the main cottage including the addition of a fireplace with a fieldstone frontage, an extension that created a master bedroom, a complete bathroom and a stair to upper bedrooms. The living room is paneled with knotty pine. As was the case with many other cottages, Don Christie did most of the modifications and upgrading. We painted the exterior of the cottage for a few years, but in 1996 we installed new windows throughout and clad the cottage, garage and the sleeping cabin with vinyl siding. Memories of Adam's handiwork remain in the form of several small tables, a wooden decoy, and wall ornaments made from cedar roots.
Margaret was a retired schoolteacher and spent most of her summers at the cottage. Margaret made an agreement with Don Christie to extend the road leading to Glen Parr's property through her property and on to the Laurie and Miller properties.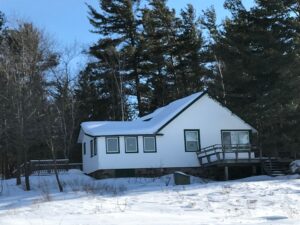 Glen Parr remembers Margaret walking on a trail to Flynn's Resort where she left her car. Glen thinks Adam bought the property from the 1939 "Flynn's Survey".
Glen Parr of course has many more recollections because he lived there through many of the changes. The Parr cottage was built by Don Christie for Mr. & Mrs. Bishop from Cleveland in 1947 and Glen Parr bought the property in 1967.
The Laurie property to the west of us was settled by Peter Laurie's grandfather Dr. William Harwood, who had purchased a lot from Adam Brown, and passed it on to his daughter Willa (Peter's mother).
Peter Laurie remembers walking with his Mom to Margaret's cottage before the road to the Laurie cottage was built. Peter thinks this was in 1976 or 77.
The Parr and the Laurie histories both deserve their own separate reports.