Covid 19 Advice for Cottagers
By Donna Tucker
Although the numbers of Covid-19 cases in the area are low (as reported by the North Bay Parry Sound District Health Unit) be aware that cases are defined as those that have received a positive test result and have a permanent address within the Health Unit's district.  Seasonal residents who test positive will be counted in the district of their mailing address.  This could result in under-reporting of positive cases in the Parry Sound area and a sense of complacency because the reported numbers are low.  Our community is counting on you to do your part to keep everyone safe. It is recommended that we all follow these important practices.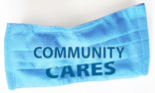 Wear a non-medical grade mask whenever you are out in public and safe physical distancing cannot be maintained.  You can get a mask at 92 James Street, Monday to Wednesday 9 am to noon from the West Parry Sound Health Centre Auxiliary mask project.
Although social gatherings can be up to 10 people,  we still need to practice physical distancing by keeping at least two metres (just over 6 feet) away from others outside of our direct households and wearing a mask when we are in close contact with those who are not part of our household.  Physically-distanced outdoor activities are the safest way to gather with family and friends.  Consider options for BYOS -Bring Your Own Supplies!

Carry a personal container of hand sanitizer with you in your car, in your purse or pocket and be a frequent and visible user in all public places.  Be aware of high-touch surfaces.  Keep household surfaces clean and always practice hand washing whenever soap and water is available.