In Memoriam: Don Clement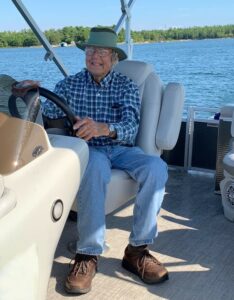 Donald Leonard Clement, 75, of Carling Township, passed away suddenly at home, on Thursday, December 15th, 2022.
He was born to parents (Janet and Leonard) in Kirkland Lake, Ontario in 1947. Don was first trained to be a certified welder and later went on to be a certified engineering technologist (C.E.T) after having upgraded his education while attending night school and raising a family. After 25+ years with Ontario Hydro he eventually retired and went on to start his own consulting business for many years before finally retiring once and for all.
Don was predeceased by his wife Dana (nee Smith), of 43 years and shared his most recent years with his loving companion, Shirley. Don is survived by his two sons Aaron (Jill) and Dan, and his three grandchildren Ethan, Emma and Jack. Don was also predeceased by his youngest son Jon.
Georgian Bay, with its natural beauty and abundant wildlife was his favourite place to live, spend time with his family, enjoy hobbies, and love 'Life on the Bay'. Family and local history were very important to Don and he would often be found deep in conversation with strangers and friends alike on these and many other topics. Don's kind and friendly personality will be sadly missed by all who knew him.
A Celebration of Don's Life will take place in the Logan Memorial Chapel on Thursday, December 22nd at 2:00 P.M, with visitation prior from 1:00 – 2:00 P.M. Reception to follow.
In lieu of flowers, donations can be made to Georgian Bay Land Trust, or to the Arthritis Society of Canada.