"Parry Sound 33" by Joseph Hartman Currently on Display in Toronto
The Stephen Bulger Gallery in Toronto is presenting "Parry Sound 33", an exhibit by photographer Joseph Hartman. The exhibit is a series of landscape photographs and watercolour paintings documenting the aftermath of the Parry Sound 33 forest fire on the Henvey Inlet which began on July 18, 2018. The fire devastated over 11,000 hectares of ecologically important Georgian Bay coastal habitat along with several cottages and homes.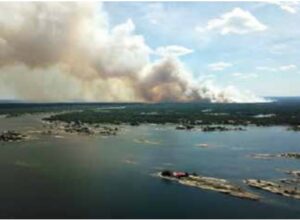 GBA worked with Dave Seglins of the CBC and Jean Burke, who represented local victims, for several years to compel the MNRF to release the fire investigation report, but our efforts were  struck down by an independent adjudicator last spring.
This exhibit examines how humans can rapidly change a fragile landscape and the effects this has on the ecosystem and the community. The exhibition runs from March 4 – April 22, 2023 at the Stephen Bulger Gallery in Toronto. Get the details here.