Promotional Content – All The Way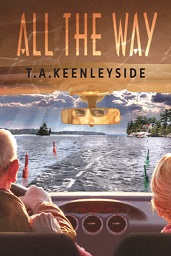 All The Way is a novel about lifelong friendships and  the challenges confronted along the way. Starting at the Ojibway Hotel in 1958 when the principal characters are full of youthful vigour, the story traces the evolution of their ties over a span of sixty years as their interests and ambitions alter and they cope with shifting social norms. Their friendships are frequently put to the test as they wrestle with clashes they never anticipated in their youth.  At the professional level, these result from the involvement of one of the friends in the proposed construction of a major sports complex on the Toronto waterfront and in the city's bid to host the 2008 Summer Olympics. At the same time, in their private lives, the characters must cope with conflicts and crises that result from their altered values and perceptions of one another, including open marriage, love affairs, divorce and attempted suicide.
All The Way is an entertaining novel that uses both humorous and dramatic episodes to explore the foundations on which friendships are built and then alter. In addition to Georgian Bay, the other principal setting for the novel is Toronto, although there are also chapters located in Europe and in cottage country in Muskoka and the coast of Maine.
All The Way will be available over the summer season at Dillon Cove Marina. It can also be purchased at select bookstores and online at:www.borealispress.com. Personally autographed copies are also available by contacting me at terdotcomm@sympatico.ca.
More information at: www.takeenleyside.com.