Summer jobs at Killbear Park
Killbear Provincial Park is hiring students for the Summer!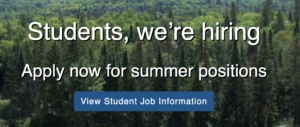 There are a variety of jobs available in Ontario Parks across the province as a:
Gate Attendant (Park Ranger)
Maintenance Worker (Park Ranger)
Park Interpreter (Park Ranger)
Learn to Camp / Learn to Fish
Program Leader *select parks only
Killbear Provincial Park employs a team of students every summer and is looking to connect with students that have summer residences/cottages in Carling and the Parry Sound area.
How to become a park ranger at Ontario Parks
Applications must be done online at Ontario Public Service Careers – Job Preview (gov.on.ca) and the next deadline is March 21, 2023. Staff housing is very limited so students are encouraged to make note in their application that they have local accommodations.